Calibration Accessories
Custom Products
Low Thermal Electronics
designs and manufactures custom products for electrical metrology laboratories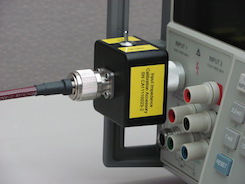 Low Thermal Electronics, Inc. Products
Low Thermal Electronics designs and manufactures resistance standards, cables, connectors, and accessories for electrical metrology laboratories. We also manufacture OEM cables, parts and complete products for electronic equipment manufacturers.
Our rugged, high accuracy working standard resistors and shunts are equally at home in the calibration laboratory, production manufacturing environment or for use in the field as portable transfer standards. Designed for reliability, these standards provide high levels of stability, mechanical, and electrical performance.
Our cable and connector product lines utilize state of the art materials and construction for ppm and sub-ppm level applications. Features and applications include low thermal EMF, low loss, high voltage, high current, and high performance in low level signaling and measurement environments.
We design and manufacture calibration standards and accessories to your specifications from small quantities to thousands to support your special product or calibration workload. We couple our proprietary cable and connector technologies with proven designs and rugged packaging to create reliable products that fit your needs. Use the contact page to share your requirements with us.