Fluke
Wavetek Datron
Agilent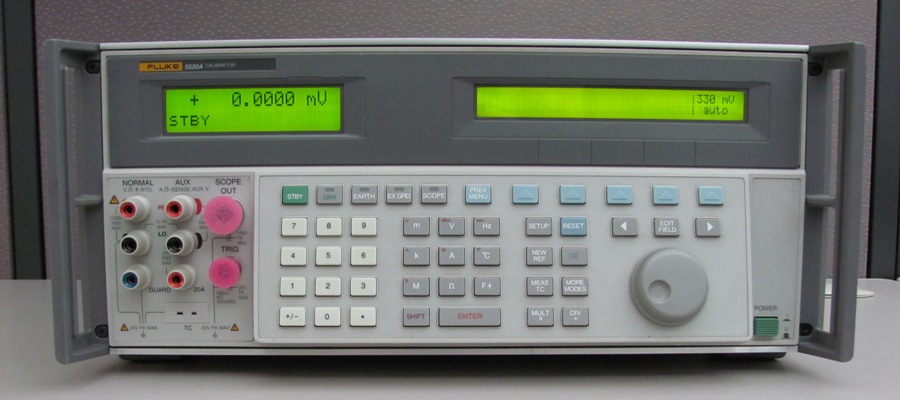 Caution: These instruments can produce or measure lethal voltages at their terminals. Testing should
only be performed by qualified technicians
Fluke 5520A Multi-Product Calibrator
The 5520A from Fluke is a bench top, multifunction calibrator for calibrating up to 6½ digit instruments It can source direct voltage and current, alternating voltage and current, resistance, capacitance, thermocouples and RTDs. It can simulate ac and dc power by generating voltage and current on separate terminals simultaneously. It can also measure thermocouple temperature, humidity, and pressure using external probes and modules. Options include scope calibration to 1.1GHz and a Power quality option for calibrating power quality instrumentation.
---
Common Failures
Misapplication of voltage or current — The 5520A can be damaged by sourcing voltage into any output or by applying excessive voltage/current into the capacitance or resistance functions.
Electro Static Discharge — Care should be taken when working in environments of low humidity or where carpet, furniture, or garments can generate static electricity. The 5520A is a complex electronic instrument manufactured with modern electronic components. These can be more sensitive to electro static discharge (ESD) than older generations of equipment. A discharge may also not apparently affect the instrument instantly. Failures can occur sometime later with no apparent cause.
Poor Maintenance — Over time or in dusty working environments dust and debris can build up on the filter and inside the unit. This can increase internal operation temperatures affecting reliability. It can also create leakage paths that affect calibration stability and operation accuracy. In the worst cases stray leakage caused by dust in the 5520A can cause uncontrolled high voltage conduction within the instrument resulting in and significant damage.
Test Instructions
These instruments can produce or measure lethal voltages at their terminals. Testing should only be performed by qualified technicians.
Any failure or operational deficiency information available allows us to provide the best service. Please include any information available about failures and what function the instrument was in prior to failure.
Testing Steps