Fluke
Wavetek Datron
Agilent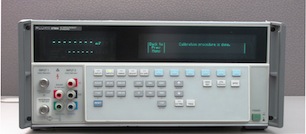 Caution: These instruments can produce or measure lethal voltages at their terminals. Testing should
only be performed by qualified technicians
Fluke 5790A AC Measurement Standard
The 5790A from Fluke is a very high performance, bench top alternating voltage measurement standard. It is a direct reading, fully automated measurement instrument with low uncertainties. It covers a range from 700uV to 1000V and a frequency range of 10Hz to 1MHz. A wide band voltage option is available with coverage to 30MHz.
---
Common Failures
Electro Static Discharge — Care should be taken when working in environments of low humidity or where carpet, furniture, or garments can generate static electricity. The 5790A is a complex electronic instrument manufactured with modern electronic components. These can be more sensitive to electro static discharge (ESD) than older generations of equipment. A discharge may also not apparently affect the instrument instantly. Failures can occur sometime later with no apparent cause.
Poor Maintenance — Over time or in dusty working environments dust and debris can build up on the filter and inside the unit. This can increase internal operation temperatures affecting reliability. It can also create leakage paths that affect calibration stability and operation accuracy.
Test Instructions
These instruments can produce or measure lethal voltages at their terminals. Testing should only be performed by qualified technicians.
Any failure or operational deficiency information available allows us to provide the best service. Please include any information available about failures and what function the instrument was in prior to failure.
Testing Steps