Fluke
Wavetek Datron
Agilent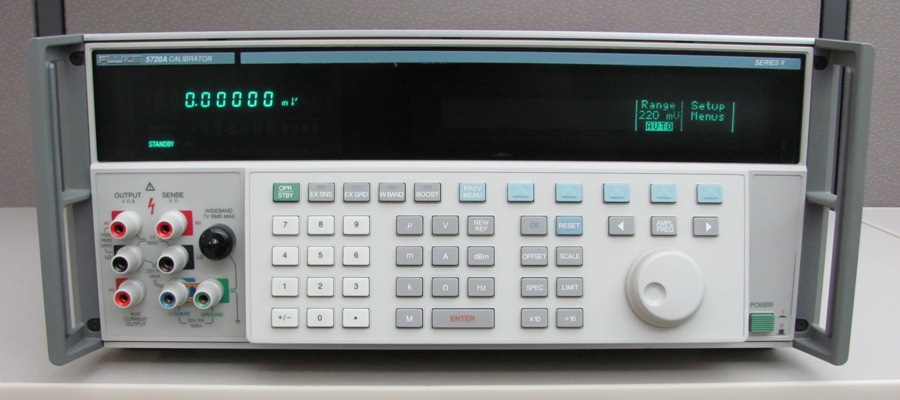 Caution: These instruments can produce or measure lethal voltages at their terminals. Testing should
only be performed by qualified technicians
Fluke 5700A and 5720A Multi-Product Calibrator
The 5700A and 5720A from Fluke are high performance bench top, multifunction calibrators for calibrating 7½ and 8½ digit instruments. They can source direct voltage and current, alternating voltage and current, and resistance. A wide band voltage option is available with coverage to 30MHz.
---
Common Failures
Misapplication of voltage or current — The 5700A and 5720A can be damaged by sourcing voltage to any output terminal or by applying excessive voltage/current into resistance function.
Poor Maintenance — Over time or in dusty working environments dust and debris can build up on the filter and inside the unit. This can increase internal operation temperatures affecting reliability. It can also create leakage paths that affect calibration stability and operation accuracy. In the worst cases stray leakage caused by dust in the 5700A or 5720A can cause uncontrolled high voltage conduction within the instrument resulting in and significant damage.
Age — Very old instruments can suffer from age related failures caused by normal deterioration of components and assemblies over time.
Test Instructions
These instruments can produce or measure lethal voltages at their terminals. Testing should only be performed by qualified technicians.
Any failure or operational deficiency information available allows us to provide the best service. Please include any information available about failures and what function the instrument was in prior to failure.
Testing Steps